The Master of Science (Foodomics and Food Technology) Programme is offered in mixed mode and the total available credit hours for this programme  is 40 credit hours.
Objective of the Programme is to produce graduates who are knowledgeable, skilled and able to integrate the knowledge of biological science and food technology.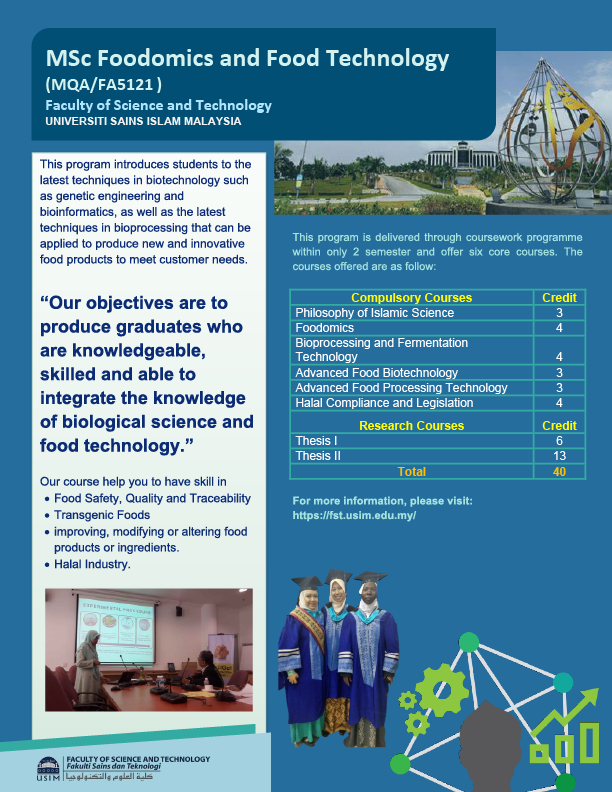 The Master of Science (Foodomics and Food Technology) Programme strives to achieve the following goals:
Food Technologists who can combine and use advanced knowledge and laboratory research experience to produce new knowledge while providing the best services to relevant agencies in line with the university's educational philosophy(PLO1, PLO2, PLO3, PLO7).
Food Technologists who are able to lead and engage in teamwork to solve problems within or outside the field of knowledge through the ability to communicate effectively(PLO4, PLO5, PLO8).
Food Technologists who have comprehensive knowledge and the ability to leverage digital technology to generate business opportunities in related sectors(PLO6, PLO9, PLO10).
Food Technologists who practice ethical and professional values ​​in providing services to related sectors and also cover halal issues in the food industry (PLO11).
Application of Soft Skills / CLO Mapping
Programme Learning Outcome

MQF2.0

PLO1

Demonstrate in-depth knowledge and apply expertise for advances in the field of food biotechnology.
Cluster 1: Knowledge and Understanding
Knowledge
PLO2
Evaluate current issues critically and generate solutions to problems related to the field of food biotechnology using scientific skills.
Cluster 2: Cognitive Skills
Cognitive Skills
PLO3
Apply and integrate practical skills and scientific equipment in line with technological developments in the field of food biotechnology.
Cluster 3: Functional Work Skills
Practical Skills
PLO4
Demonstrate skills to interact confidently and effectively at various levels both among peers and experts in and outside the field.
Interpersonal Skills
PLO5
Possess effective communication skills in imparting knowledge related to the field of food biotechnology and able to provide consulting services.
Communication Skills
PLO6
Integrate various sources of digital technology in addressing issues related to food biotechnology.
Digital Skills
PLO7
Skilled in applying various quantitative techniques in analyzing numerical and graphical data.
Numeracy Skills
PLO8
Skilled to lead and collaborate effectively in a team or individually.
Leadership, Autonomy and Responsibility
PLO9
Demonstrate individual skills in line with needs in the field of food biotechnology.

Cluster 4: Personal and Entrepreneurial Skills

Personal Skills
PLO10
Possess skills in management, entrepreneurship and consulting services.

Cluster 5:

Ethics and Professionalism

Entrepreneurial Skills
PLO11
Appreciate ethical and legal responsibilities in line with professional codes and practices in research and consultancy in the field of biotechnology.

Ethics and Professionalism
Graduates of this program can work in jobs involving the manufacturing and production of food, marketing, agriculture, pharmaceuticals, medicine, banking, business and commerce. They also have the option of becoming entrepreneurs or working in public sector such as research, education and enforcement institutions.