Bachelor of Science with Honours (Industrial Chemical Technology)
PROGRAM DETAILS
Programme Code:
QS21
Medium of instructions:
English and Arabic
Duration of Studies:
- Full Time: 4 years (8 semesters)
The first enrolment of students for this programme was in the 2008/2009 academic session. It will take four (4) years to complete the programme which combines lectures, practical and dissertation project as well as industrial training. The main objective of Industrial Chemistry Technology Programme is to produce graduates with knowledge, skills and ability in integrating chemical science and related industrial technology with consideration of social responsibility and ethical aspects.
CAREER PROSPECTS
Ahli Kimia, Ahli Sains, Jurnalis, Jurutera, Pegawai Farmasi, Guru, Pegawai Forensik, Pegawai Kaji Cuaca, Pegawai Alam Sekitar, Pegawai Kualiti, Pegawai Penyelidik, Pegawai Sains, Peguam Paten, Pensyarah, Teknologis
Contact Us
Student Admissions and Marketing Department
Level 1, Chancellory Building
Universiti Sains Islam Malaysia (USIM)
Bandar Baru Nilai, 71800, Nilai, Negeri Sembilan, MALAYSIA

Phone: +606-798 8000
Email: admission@usim.edu.my
Testimonial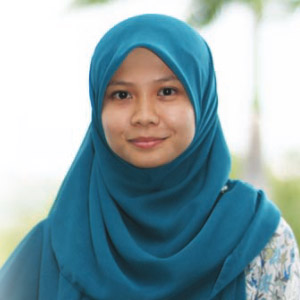 As a student of the Industrial Chemistry Technology programme, I always ensure that my research is related to the ultimate source in Islam, the Quran. For example, in my final year research project which is based on the water purification technology, I connected the framework of my study to the the 25th surah of the Qur'an, Al Furqan."
Education:
Bachelor of Science with Honours (Industrial Chemical Technology)
Related Information
Related Links