Computer science is a field that needs to be developed to improve knowledge and information technology in social education and development. The benefit is to accelerate the accumulation, processing and analysis and dissemination of information can be done efficiently and accurately. This will have a significant impact on the techno-socio-economic development and stability of the country, especially in the face of competition through international manufacturing and trade industries and globalization. Unfortunately, intrusion in the computer industry seems to be a common phenomenon faced by the organization. Hence, computers and information security assurance are essential to all government, private and individual organizations.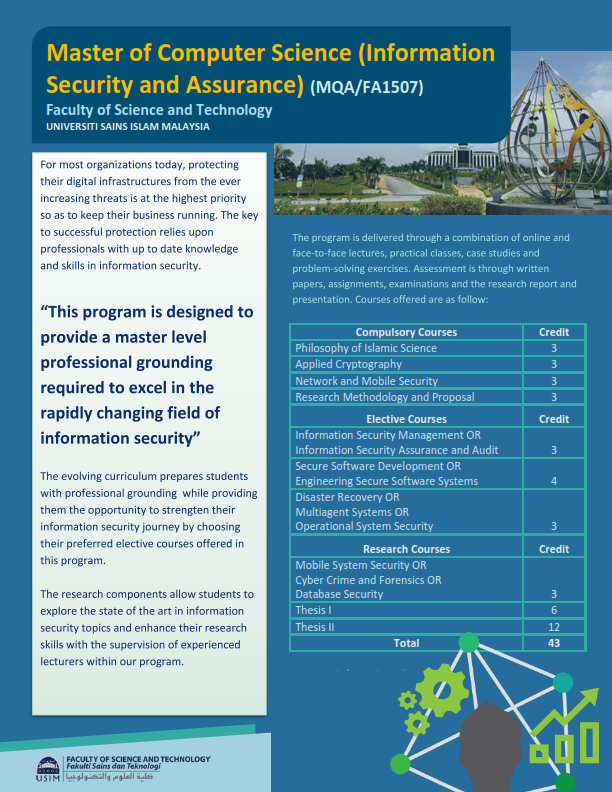 The Information Security and Assurance programme will produce a Computer Scientific Practitioner who:
PEO1: Can use the knowledge, principles and skills in Computer Science to solve the problem critically in line with Islamic principles to contribute to the development of the ummah, the country and the world's progress. (LO1, LO6)
PEO2: Proficient in mathematics, scientific skills and computing knowledge theories to analyze, model, design, develop and evaluate computing solutions through an understanding of the theory and practical of Computer Science. (LO2)
PEO3: Able to communicate, lead, work in teams and have social awareness, ethical in Islamic sharia. (LO3, LO4, LO5)
PEO4: Capable of developing a career and research through the exploration of business opportunities through lifelong learning for the development of the ummah. (LO7, LO8)
Graduates in this field can participate in the communications, multimedia, telecommunications, finance, banking, security, fund, trust fund, takaful, insurance, management, trade, computer fabrication, software, information technology, consulting, mining, transportation (land, sea and air). In addition, they can also be entrepreneurs, franchisors or working in the public sector.